Custodian of Vacancy: Embassy of Iran in the USA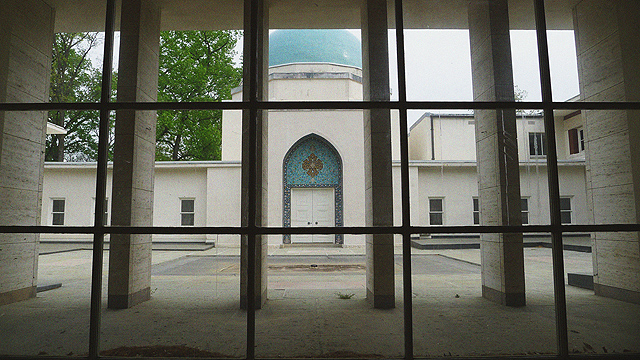 Custodian of Vacancy: Embassy of Iran in the USA
2013
Empty Seat at Embassy Row, 2013
Archival print on cotton paper
56 x 100cm
Edition 5+2 ap
Withdrawn, silent, and inaccessible, the Embassy of Iran in Washington, DC has been closed for over 12,000 days since the fall of the Shah and the US Embassy hostage crisis of 1979. Yet, the majestic building stands and has somewhat been preserved, an inadvertent living testament to what once was.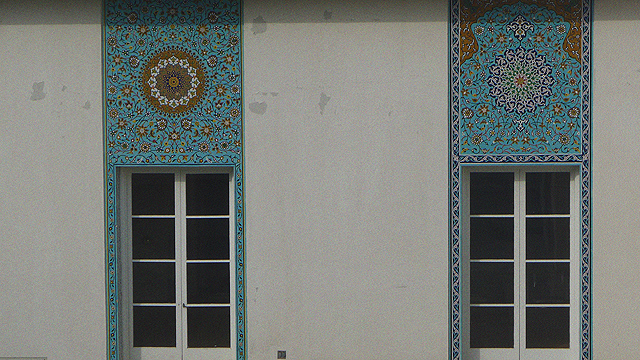 Khatam Kari Lives
Archival print on cotton paper
56 x 100cm
Edition 5+2 ap
The unique history of the Iranian Embassy in the United States, as well as whatever its future may hold, offers a wealth of neoriental imagery and aftereffects, besides remaining itself a veritable testament to what was once a hub of American celebrity merged with, and immersed in, Persian culture. I have discovered that the visuals of the Embassy's current uninhabited status has a particular rich aesthetic that captures the exclusive solitary nature of this institution. The resulting photographs, featured in this exhibition, become works of art in themselves in uniquely expressing a historic moment in time as well as conveying the immediacy in the artistic emotion of seclusion, by bringing us to a magical space that was once very celebrated and alive with vibrant festivities.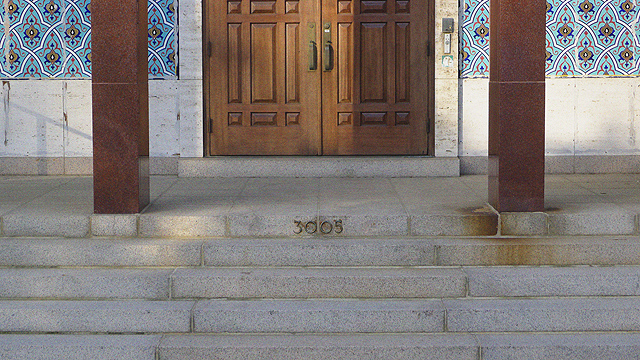 3005 Massachusetts Ave
Archival print on cotton paper
56 x 100cm
Edition 5+2 ap
Much of my work focuses on explorations of the ongoing chrysalis of Orientalism, a term usually applied by art scholars towards the West's interpretations and fantasies of Middle Eastern cultures and traditions. However, I have termed my particular area of interest Neo Orientalism™, as in more modern times this area of study can't only be limited to classic representations of the Middle East in the Western arts, but also how the West emerges within the contemporary worlds of the Middle Eastern regions, as globalism continues to make this exchange an international phenomena that can now be found in a multitude of varied incarnations - not only in art, but in the visual science of branding & commercialism as well as in the cultural by-products of political events & historical dialogue.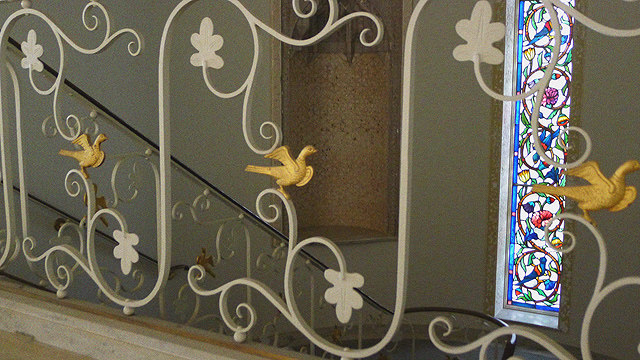 Cyphers
Archival print on cotton paper
56 x 100cm
Edition 5+2 ap
While the modernist building was first constructed in 1959, the popularity of the Iranian Embassy really emerged in the 1960's and 1970's under the leadership of then-Ambassador Ardeshir Zahedi (b. 1928). Reinventing the interiors to reflect elements of traditional Persian folklore and design, Ambassador Zahedi's reintroduction of Iranian beauty & culture quickly made the space a magnet for preeminent stars of the cultural and political worlds. Guests included such luminaries as Liza Minnelli, Elizabeth Taylor, Gregory Peck, Henry Kissinger, Nelson Rockefeller, and countless others. Andy Warhol wrote in his diaries of frequenting dinners alit with Hollywood glamour at the Embassy of Iran, which hosted events such as legendary dancer Rudolf Nureyev's birthday party.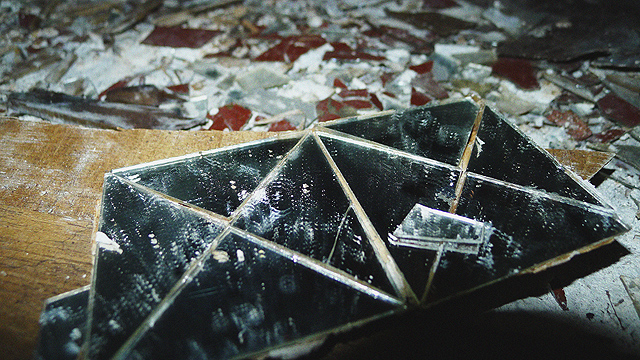 Magic Mirror
Archival print on cotton paper
56 x 100cm
Edition 5+2 ap
Interestingly, despite its kinship to authentic Persian elements, many of the artisans leading the design implementations of the Embassy were of Western or European origin. Still, the results of their work show a true dedication to maintain a genuine sense of Middle Eastern aesthetics. The grand entrance doors, which featured the very traditional 12th century Iranian image of The Lion and The Sun as well as an array of other animal symbols, were actually commissioned works by the American architectural sculptor Ulysses Ricci (1888-1960). Meanwhile, the rooms were lavishly decorated with recognizably Persian flavor (with some small European touches) by UK-based designer Michael Szell (1930-2002) under Ambassador Zahedi's instruction. The end result was reportedly a truly unique showcase of Middle Eastern design and culture in the United States.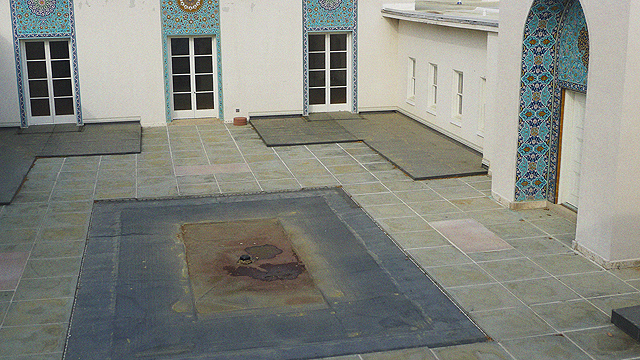 Sanctuary
Archival print on cotton paper
56 x 100cm
Edition 5+2 ap
Today, the Iranian Embassy stands as a custodian of vacancy. Only shadows move within the structure, as nature seems to slowly reclaim it with the tireless ravages of time. The Embassy of Iran seems alone on Massachusetts Avenue - commonly known as Embassy Row - even though it is cushioned alongside the active homes of other standing diplomatic missions from countries such as Italy, Japan, South Korea, Brazil, India, Turkey, Iraq, Greece, Australia, South Africa, and the United Kingdom, amidst many others.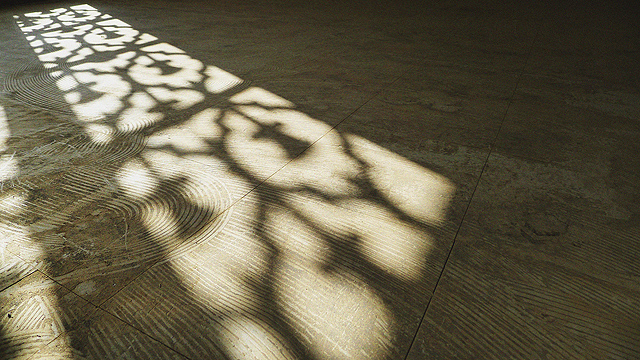 Illumination
Archival print on cotton paper
56 x 100cm
Edition 5+2 ap
Inside, a sense of time is quickly forgotten as the remnants of endless ballrooms, offices, and studies echo an environment that once ruled a mere four decades ago. Gilded mirrors, remarkably intact, leaves us wondering who and what times they bore witness to, in the not too distant past. Jubilant lights and voices no longer fill the building; only sunlight crosses forth through beautiful stained glass works. Windows are guarded by cast gates organized in the form of the Lotus Flower.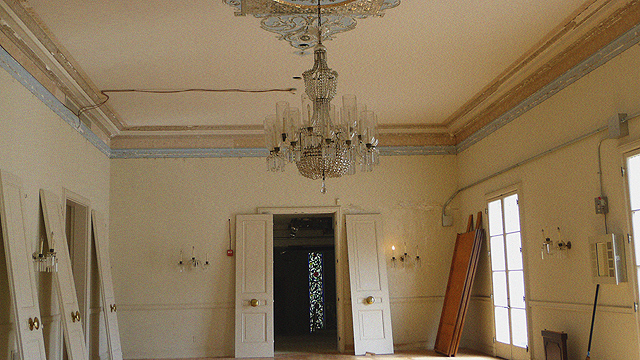 Last Dance
Archival print on cotton paper
56 x 100cm
Edition 5+2 ap
Since ancient times, the lotus has held a special presence in Persian culture, and has been incorporated for centuries in textiles, ceramics, and architecture. Historians have found that the flower's symbolic importance descended from Sumerian, Assyrian, and Babylonian traditions, and was even identified by archaeologists in Persepolis, the ceremonial epicenter of the Persian kingdom. Their 20th century reincarnation at the Iranian Embassy are only a fraction of the many additions of age-old tradition in the building. The homage to Iranian folklore lends an additional layer of almost supernatural allure to the building's present atmosphere.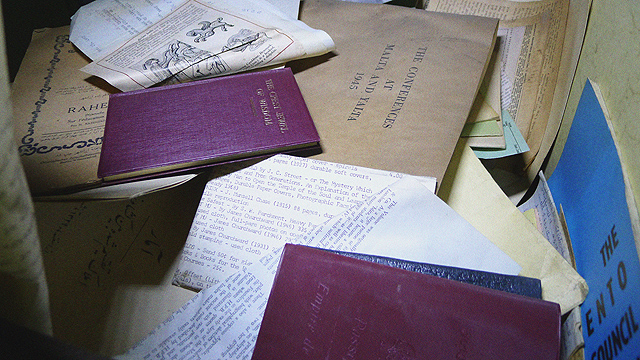 Discarded Importance
Archival print on cotton paper
56 x 100cm
Edition 5+2 ap
Discarded portraits of the longtime Shah of Iran lay discarded across the mansion-like structure. His rule, which spanned over a third of a century, as well as the 1979 Iranian Revolution, feel remarkably recent in this environment. Documents and diplomatic books, including what appear to be official passports, are scattered, discarded and abandoned. Metallic drawer after drawer are deserted, appearing to still likely contain annals of materials once regarded as vital and highly important.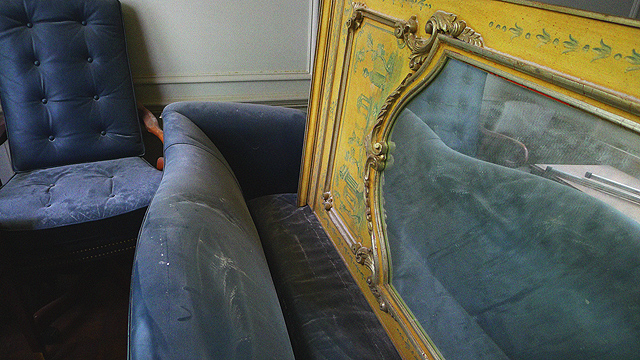 Witness
Archival print on cotton paper
56 x 100cm
Edition 5+2 ap
The grain that results in these images I realize actually assist in retaining the unusual haunting quality that is very palpable in the Embassy's eery silence. The aspect ratio of the images here become cinematic and contribute to the ethos of the conceptual arrangement. There's the sense that you've just arrived, but the party just ended and everyone - and everything - left the space minutes ago, all of a sudden.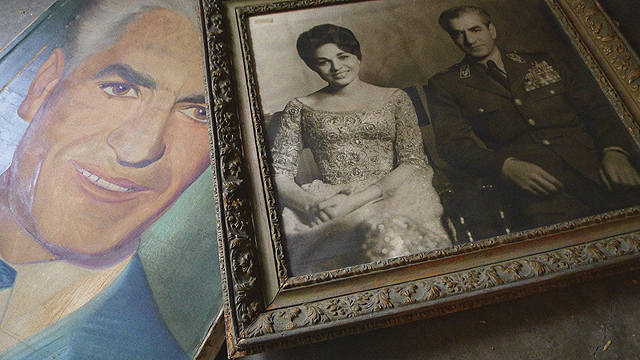 Memory
Archival print on cotton paper
56 x 100cm
Edition 5+2 ap
The intricate, hand-laid ornamental tile work that adorn the outside of the Embassy of Iran is remarkably intact and is truly a highly aesthetic nod to the tile work of Kashan, now mostly visible in museums, classical buildings or national landmarks in the Middle East. The Persian word for tile emerges from the name of the town Kashan, which became known for its unparalleled production of pottery and ceramic works centuries ago. It's truly a marvel to see this quality of lavish custom architectural work in the United States.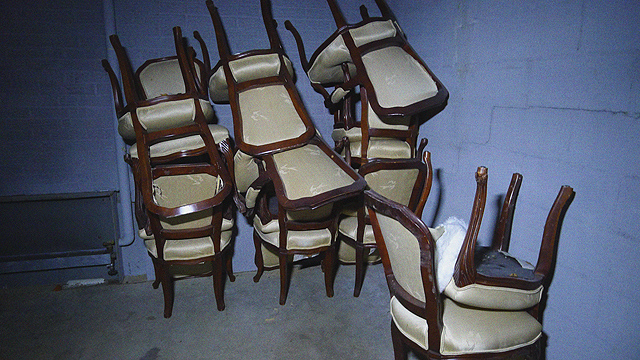 Hospitality
Archival print on cotton paper
56 x 100cm
Edition 5+2 ap
The Iranian Embassy seems to have become a silent monument, yet now is akin to a memorial, one that is not recognized and never visited. I peer inside as an outsider, a metaphor for this American-born Iranian reaching into one's dreams.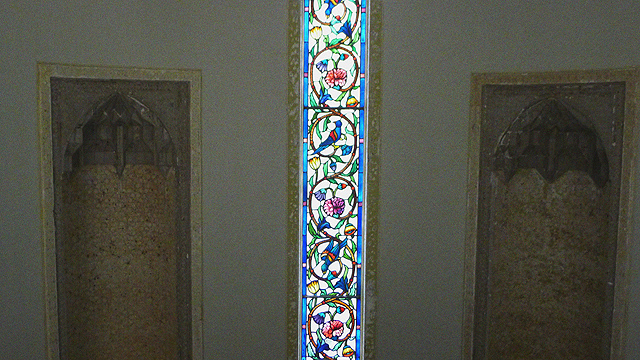 Radiance
Archival print on cotton paper
56 x 100cm
Edition 5+2 ap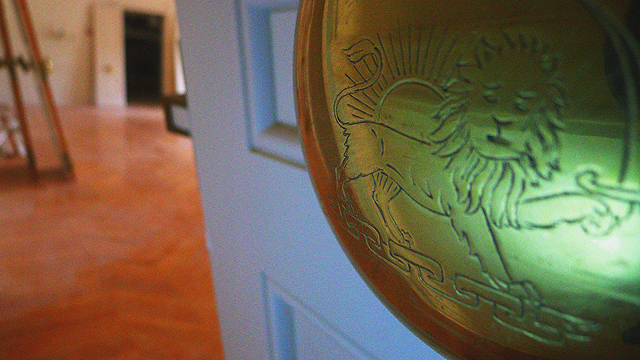 The Lion and the Sun
Archival print on cotton paper
56 x 100cm
Edition 5+2 ap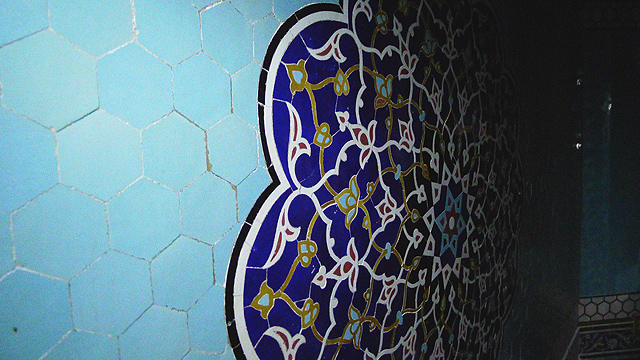 Testiment of Tradition
Archival print on cotton paper
56 x 100cm
Edition 5+2 ap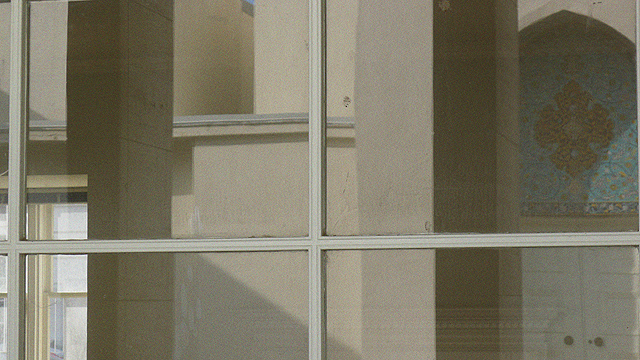 Timeless Reflection
Archival print on cotton paper
56 x 100cm
Edition 5+2 ap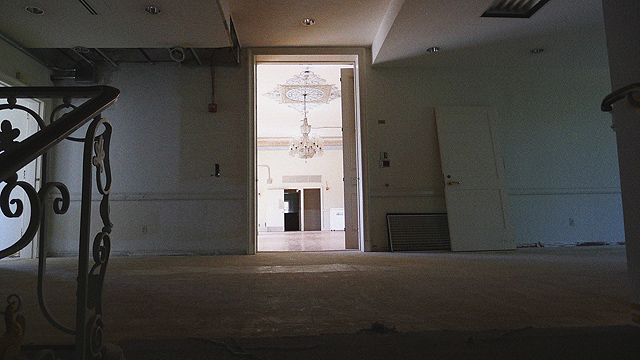 Meditation
Archival print on cotton paper
56 x 100cm
Edition 5+2 ap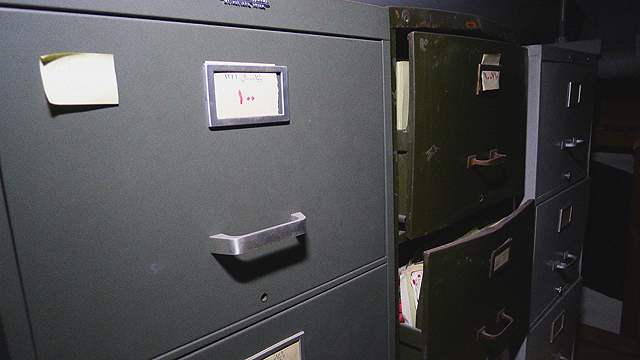 The Annals
Archival print on cotton paper
56 x 100cm
Edition 5+2 ap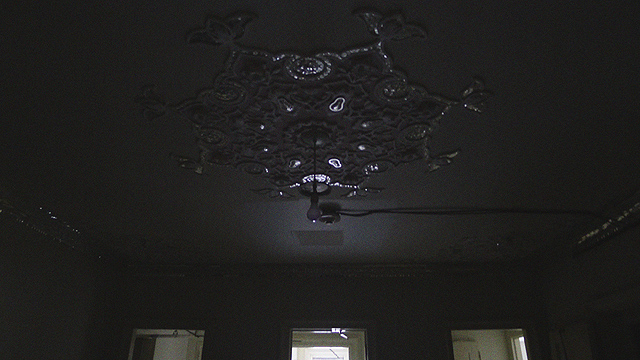 Night
Archival print on cotton paper
56 x 100cm
Edition 5+2 ap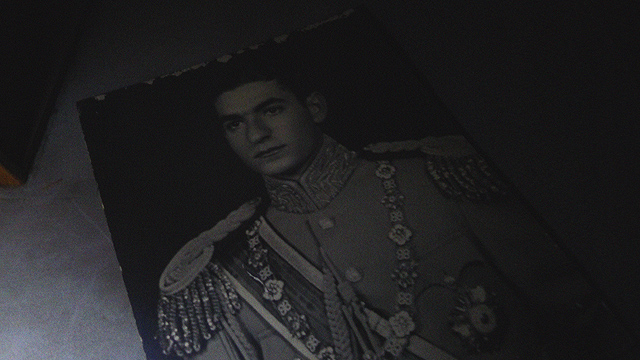 Aryamehr
Archival print on cotton paper
56 x 100cm
Edition 5+2 ap